Which online coaching is best for SAT?
Sat coaching is a learning technique that uses smartphones and the internet to help children learn Verbal and Quant faster. The concept has been around for a while, but it is gaining popularity in India and abroad due to some unique benefits. This article looks at the best way to use Fast Prep Academy's online coaching as part of your SAT coaching.
Imagine a time when a coach could teach you at home, in your own environment. Imagine learning from a coach who is not there with you physically. In this article, we explore the concept of  best Sat coaching and how it can help improve your academic life. We have worked with at least 200 students from different parts of the Globe during these challeging times and ranked globally as the best online coaching academy for SAT! If you are ambitious to score high on the SAT then the best solution would be Fast Prep Academy.
Which online coaching is best for SAT? Fast Prep Academy
Our SAT coaching at Fast Prep Academy will help you prepare for the next phase of your academic career with the best SAT coaching and test preparation material available completely online. Our SAT preparation is designed to ensure that you get the score that college admissions directors are looking for.Despite Pandemic, our students and tutors stretched so much in the past and are currently to give their best as SAT preparation is very crucial for students.
The next step in your academic career could be taking a competitive exam like PSAT or SAT! We can help prep you up here using our expert educators and tutors on staff who have years of experience in these areas. All our SAT tutors have more than a decade experience in handling SAT students along with international expertise. 
SAT coaching allows us to provide students with individualized attention while studying their hearts, preparing for this crucial upcoming moment in their lives (matching a college). The best part? No matter what position is open regarding admissions deadlines, we'll still be able to find the room so we can work closely together online on this final project before sending them off into adulthood!
Which online coaching is best for SAT? Fast Prep Academy
The average SAT score among our students is 1470, with the majority averaging between 1440–1550. The most common college acceptance rates for these students are anywhere from around 90% because of the increased number of acceptances by selective liberal arts colleges and highly ranked Universities we work with. Students who achieve such fantastic results typically get accepted to schools like Harvard, Yale, Princeton, or Johns Hopkins University but still have more. The majority of our students score well on Section 1(Reading Section) of the test, and their most common scores from this section are 45+ and 40+ on the writing section.
The average SAT score among our students is 1470 out of 1600. If you achieve that result, it's standard to send in 5 free colleges because many schools now accept these scores! We also try to help students get whichever future career they're going for by discussing this with our tutors before we start the class. Most of our students go to Harvard, Princeton, and other highly ranked universities because they score significantly higher than the national average!
Which online coaching is best for SAT? Fast Prep Academy
We hope you found what you were looking for here at Fast Prep Academy; if not, please read more about us & feel free to contact us today. We have a great list of services & expert academics in fields that interest your learning style, including math, science (Physics and Chemistry), and languages. We also have tutoring SAT Prep Guides and SAT Prep courses to get you up to perfect scores!
Attention: Fast Prep Academy offers SAT coaching at affordable rates.
 We have a team of expert SAT tutors who provide comprehensive and personalized sessions to help you get the best score possible. Target 1550 now!
 Our SAT online courses are designed with interactive classes, practice tests, step-by-step explanations, and helpful hints that will help you learn how to improve your skills! You can start from any level as we offer our complete range of programs for students of all ages and backgrounds. All our SAT programs are structured in such a way that they can be completed within 3-6 months or less, depending on your pace.
Which online coaching is best for SAT? I hope you would undoubtedly say it's the Fast Prep Academy.
Click here now to register for SAT prep course at Fast Prep Academy!
SAT coaching online is an outstanding way to prepare for the SAT during these unsafe times.Do reach us to know how our 200 students prepared for their SATs during these challenging times. We have a special offer where you can get all the materials needed to study and improve your score in just three months. Call us or whatsApp now on +918143235592 and get started today!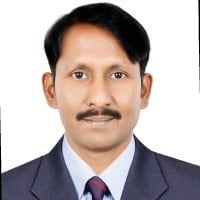 Founder & Academic Head at Fast Prep Academy.
Experienced both in India and Abroad: Handled diversified student groups from the USA, UK, Canada, Europe, China, Asia, and Australia.
Overall 20+ years of teaching and training experience in Education, Primarily in the Test Preparation of GMAT, LSAT, LNAT, GRE, UCAT and SAT.
Kaplan Certified Verbal Reasoning Professional.
Gold Medalist in English Essay writing ( AP).